The Vietnamese Government has introduced crucial regulations governing business conditions, compliance assessment, and state management in investment and business. Decree No. 107/2016, issued by the Vietnamese Government, outlines the specific regulations that enterprises operating within the country must comply with. These regulations establish the requirements and standards to ensure businesses operate by legal provisions, contributing to sustainable economic development.
In addition, Decree No. 154/2018, implemented by the Ministry of Science and Technology, introduces adjustments, additions, and cancellations of specific provisions related to investment and business conditions in state management. This decree aims to create a favorable environment for businesses engaged in commercial activities, promoting transparency, fairness, and a specialized inspection process.
VIS: Accredited and Compliant
As a trusted inspection and testing service provider, VIS is proud to be accredited and fully compliant with Decrees 107/2016 and 154/2018. We recognize the significance of adhering to these decrees, which are the foundation for ensuring legal compliance and maintaining the highest quality control standards.
Our accreditation demonstrates our commitment to upholding the rigorous requirements and regulations outlined in Decrees 107/2016 and 154/2018. By complying with these decrees, VIS actively contributes to the overall development of Vietnam's economy while providing reliable services to our clients.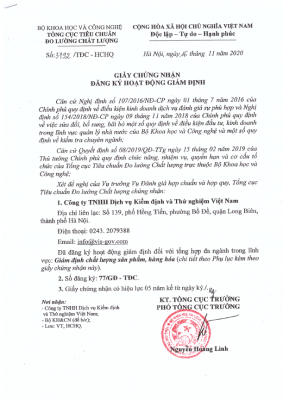 Adhering to Legal Framework and Ensuring Transparency
At VIS, we emphasise operating within the legal framework of Decrees 107/2016 and 154/2018. We understand the significance of transparency, fairness, and accountability in our operations and strive to maintain the highest levels of compliance.
By adhering to the provisions outlined in these decrees, we ensure that our clients receive dependable and trustworthy inspection and testing services. Our commitment to compliance and adherence to the Vietnamese Government's regulations set us apart as a trusted partner for businesses needing reliable quality control services in Vietnam.
Experience Excellence with VIS
With our expertise and unwavering commitment to investment regulations and business conditions, VIS guarantees excellence, transparency, and integrity in all our services. By choosing VIS as your inspection and testing partner, you can have complete confidence in our compliance with Decrees 107/2016 and 154/2018 and our meticulous quality control processes.
Contact VIS today to experience our accredited services and witness how we ensure compliance and uphold the highest quality control standards in Vietnam.