In today's competitive business landscape, organizations strive to deliver products and services that consistently meet customer expectations while adhering to regulatory requirements. This pursuit of quality excellence is where ISO 9001 comes into play. ISO 9001 is an internationally recognized standard that sets out the criteria for establishing a robust quality management system (QMS). At VIS, we recognize the value of ISO 9001 certification and its role in ensuring the highest quality standards for our clients.
The Power of ISO 9001

ISO 9001 serves as a framework for organizations to establish and maintain a systematic approach to quality management. It provides a roadmap for businesses to demonstrate their ability to consistently deliver products and services that meet customer and regulatory requirements. By implementing the principles and practices outlined in ISO 9001, organizations can enhance customer satisfaction, improve operational efficiency, and drive continual improvement.
VIS and ISO 9001 Certification
At VIS, we understand that certification to ISO 9001 is not just a badge of honor but a testament to our commitment to quality excellence. As a leading inspection company in Asia for consumer goods, we have obtained ISO 9001 certification to validate our adherence to internationally recognized best practices in quality management. This certification reinforces our dedication to consistently providing inspection services that meet the highest quality and customer satisfaction standards.
The Importance of Qualified Inspectors
One of the key factors in achieving quality excellence is the competency and expertise of our inspectors. VIS places great emphasis on the selection and training of our inspectors to ensure they possess the necessary skills and knowledge to conduct thorough inspections. We go the extra mile by providing our inspectors are fully ISO certified, a recognition issued by government organizations. This certification showcases our commitment to maintaining a team of qualified professionals who can effectively assess and validate product quality.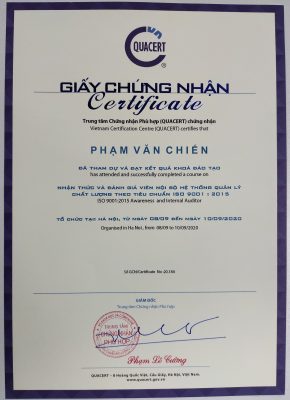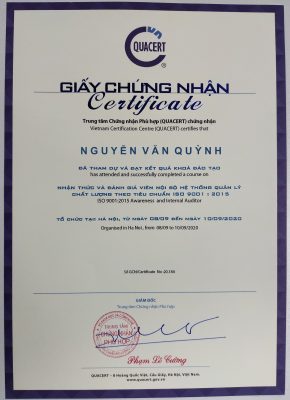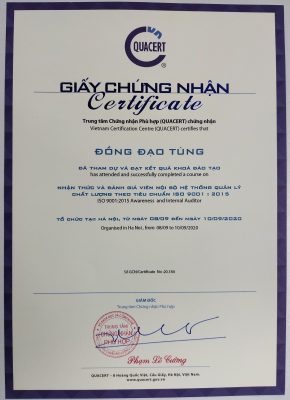 Delivering Confidence and Assurance
ISO 9001 certification empowers VIS to instill confidence in our clients. By adhering to this globally recognized standard, we assure our clients that our inspection services are carried out with the highest level of professionalism, consistency, and compliance. This certification acts as a seal of trust, giving our clients the peace of mind that their products are being inspected by a company committed to quality management excellence.
Continual Improvement and Customer Satisfaction
ISO 9001 strongly emphasizes continual improvement, and we embrace this philosophy at VIS wholeheartedly. We continuously review and refine our processes to enhance efficiency and effectiveness, ensuring our clients receive the best inspection services. By aligning our operations with ISO 9001 principles, we strive for customer satisfaction, exceeding expectations, and delivering tangible value to our clients.
Conclusion
ISO 9001 certification is not just a milestone for VIS but a testament to our unwavering commitment to quality excellence. By adhering to this international standard, we demonstrate our dedication to delivering exceptional inspection services that meet the highest quality, reliability, and customer satisfaction standards. With VIS as your inspection partner, you can trust that your products are in safe hands, backed by a company driven by a passion for quality and continual improvement.
Contact VIS today to experience the benefits of working with an ISO 9001-certified inspection company. Let us help you achieve your quality objectives and elevate your business to new heights of success.