Thailand is a great place to source products for foreign companies. The country has a wide range of products and industries, such as electronics, textiles, automotive parts, and more. Thailand also has a skilled workforce and a high-quality craftsmanship that give buyers a competitive edge. But product quality and compliance are still very important, and that's why buyers need quality control (QC) and Inspection service in Thailand. VIS is a reliable third-party inspection company that provides QC services in Thailand to help buyers avoid risks, keep product quality, and follow international standards. Our team of inspectors has a lot of experience and works well with suppliers to do inspections and audits. We give buyers the confidence and assurance they need when they source products from Thailand.

Product Inspections in Thailand
VIS is a quality consulting and third-party inspection company that has been working in Thailand for a long time. We know the local market very well and we can offer you quality solutions that suit your needs and budget. Our quality control services in Thailand can help you with different stages of your sourcing process, from finding and checking suppliers to reducing quality risks, solving quality problems and improving quality throughout the supply chain. We can do the following
quality control services in Thailand
:
Factory Audits in Thailand
Thailand is a great place to source products from many product categories, as it has a lot of low-cost
manufacturing
. But before you start working with a new supplier, you must ensure they meet your buyer's expectations.
A
factory audit
can help you do that by checking your new supplier on the critical things to you. These audits can examine their quality system, social responsibility, production capacity, environmental friendliness, or anything else that matters to you in your sourcing efforts.
Factory audits can also help you work better with your partners in Thailand, so you can keep the relationship strong. By doing regular assessments, you can ensure they will keep meeting your needs in the future and deal with any issues that happen because of changes in their practices.
Our Coverage in Thailand
VIS offers comprehensive Quality Control (QC) services in Thailand, covering various regions, including Bangkok, Chiang Mai, Chon Buri, Rayong, Laem Chabang, Nakhon Ratchasima, and more. With our expertise, we ensure that your products meet the highest standards of quality, providing thorough inspections and precise reports across these areas.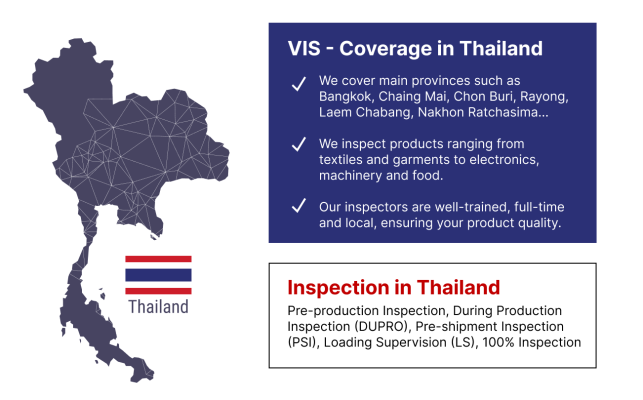 Bangkok
Chachoengsao
Nakhonpathom
Nonthaburi
Pathumthani
Samut Prakan
Samut Sakhon
Chiang Mai
Chon Buri
Rayong
Laem Chabang
Nakhon Ratchasima
Choose VIS for your QC needs and Inspection Service in Thailand
When it comes to quality control and inspection in Thailand, you need a reliable and experienced partner who can help you achieve your goals. That's why you should choose VIS, a leading quality consulting and inspection company that has been working in Thailand for a long time. We offer a range of quality control services that cover every stage of the sourcing process, from finding and evaluating suppliers to preventing and solving quality issues and improving your supply chain quality. With VIS, you can rest assured that your products will meet your expectations and standards. Contact us today!