Vietnam has emerged as a prominent player in the global sourcing market, offering numerous advantages to buyers seeking quality products at competitive prices. Whether you're interested in textiles, electronics, furniture, or consumer goods, Vietnam has it all. This article will explore compelling reasons why sourcing from Vietnam in 2023 is a smart choice. We will also provide valuable tips on finding reliable suppliers and effectively managing your orders.
Impressive Economic Growth
Vietnam's remarkable economic growth sets it apart. Even in the face of uncertainties, Vietnam's economy has displayed remarkable resilience. Vietnam ranks among the fastest-growing economies worldwide, with an average annual GDP growth rate of 6.5% from 2016 to 2020. This stability and growth potential make Vietnam an attractive long-term partner for buyers seeking stability and sustainability.
According to the World Bank, Vietnam's GDP is projected to grow by 6.8% in 2023, driven by robust domestic demand, strong public investment, and continued export expansion. In 2022, Vietnam's exports reached approximately USD 381.6 billion, while imports stood at around USD 373.2 billion. These figures underscore Vietnam's vital role in the global supply chain.
Cost-Effective Labor
Vietnam offers a significant cost advantage due to its competitive labor costs. With lower wages compared to other regional manufacturing hubs, such as China, Vietnam provides an attractive option for labor-intensive industries like textiles, electronics, footwear, and furniture. Buyers can access cost-effective production without compromising on quality.
According to Vietnam Briefing, the average monthly wage in Vietnam was US$190 (VND 4.3 million) in 2020, compared to US$380 (VND 8.7 million) in China. Additionally, Vietnam boasts a young and abundant workforce, with approximately 70% of its population under 35 and a high labor force participation rate exceeding 76%.
Diverse Manufacturing Capabilities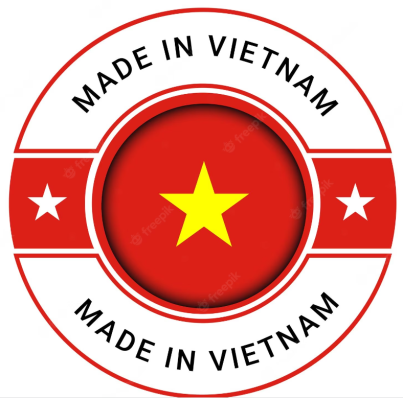 Vietnam can produce a wide range of products across various industries and categories. Whether you require textiles, garments, consumer electronics, machinery, furniture, plastics, or agricultural products, Vietnam can meet your sourcing needs. This diversity allows buyers to tap into an extensive network of suppliers and leverage Vietnam's specialized expertise in various manufacturing sectors.
According to the General Statistics Office of Vietnam, the industrial production index saw a year-on-year increase of 9.9% in the first quarter of 2023, indicating a robust manufacturing sector recovery after the pandemic. Some key products that Vietnam excels in include:
Textiles and garments: Vietnam is a leading exporter of textiles and garments worldwide, with a market share of over 6%. The industry encompasses over 7,000 enterprises employing more than 3 million workers and produces a wide range of products, from basic fabrics to high-end fashion items.
Consumer electronics: Vietnam is a major producer and exporter of consumer electronics, including smartphones, tablets, laptops, TVs, and audio devices. Renowned global brands such as Samsung, LG, Canon, Panasonic, and Intel have established manufacturing facilities in Vietnam, capitalizing on the country's skilled workforce, cost advantages, and favorable tax incentives.
Furniture: Vietnam is a key player in the global furniture market, holding a market share of over 5%. The country's rich tradition of craftsmanship, coupled with abundant natural resources like wood, bamboo, rattan, and metal, fuels the production of various types of indoor and outdoor furniture, including sofas, chairs, tables, beds, cabinets, and garden furniture.
Favorable Business Environment and Trade Agreements
Vietnam has made significant strides in improving its business environment and attracting foreign investment. The Vietnamese government has implemented several reforms to streamline bureaucracy, enhance legal frameworks, and promote transparency. This commitment has improved the ease of doing business rankings and increased investor confidence.
Moreover, Vietnam has actively participated in numerous free trade agreements (FTAs), providing preferential access to major global markets. The European Union-Vietnam Free Trade Agreement (EVFTA), Comprehensive and Progressive Agreement for Trans-Pacific Partnership (CPTPP), and Regional Comprehensive Economic Partnership (RCEP) are prime examples of Vietnam's commitment to open and fair trade. These agreements offer reduced tariffs, simplified customs procedures, and improved market access, creating a conducive environment for international buyers.
Conclusion: What Makes Vietnam an Attractive Sourcing Destination in 2023?
Sourcing from Vietnam in 2023 presents a multitude of advantages for buyers. From impressive economic growth and cost-effective labor to diverse manufacturing capabilities and a favorable business environment, Vietnam is a reliable and lucrative sourcing destination. Buyers can tap into the country's potential and gain a competitive edge in the global market by leveraging Vietnam's strengths and aligning with reputable suppliers. 
To ensure product quality when sourcing from Vietnam, buyers should consider quality inspections within the country. VIS is the top-leading quality control company in Vietnam, offering local expertise to assist buyers. With our experience and industry-leading practices, we helps buyers assess product quality at different manufacturing stages, from initial production checks to pre-shipment inspections. By partnering with VIS, buyers can rely on the expertise to ensure the quality of their sourced products from Vietnam in a friendly and reliable manner.