Mr Chien Pham is a quality control manager at VIS. He has more than 10 years of experience in inspecting products in Vietnam. He helps many clients to ensure product quality and avoid quality issues. We are happy to conduct a thorough interview with him, and here is what he shared with us about his role and the inspection process at VIS.
Hello Mr Chien Pham, thanks for joining an interview with us. What do you do as a quality control manager at VIS?
I'm Chien Pham, and I'm 35 years old. I work as a full-time quality control manager at VIS Quality Control. I inspect different products, including both hard goods and soft goods. I also supervise and train other inspectors who work with me. Before joining VIS, I worked for big inspection companies like SGS and TUV.
Why does VIS use full-time inspectors instead of part-time inspectors?
We use full-time inspectors because we care about quality. Full-time inspectors are more dedicated, experienced, and reliable than part-time inspectors who may have other jobs or interests. Full-time inspectors also get regular training and feedback from VIS to ensure they know the latest industry standards and best practices. By using full-time inspectors, we can guarantee consistent quality, professionalism, and accountability for our clients.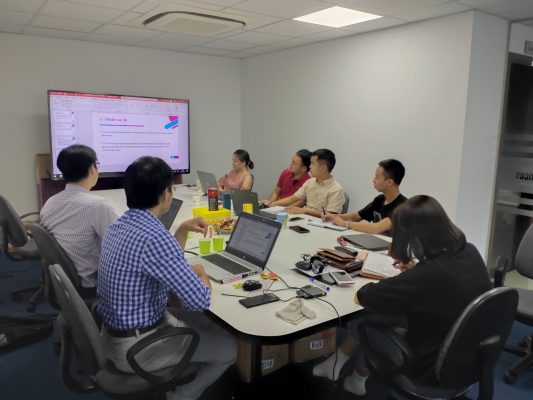 An internal training between professional inspectors at VIS
How do you conduct a professional inspection service at VIS? What are the main steps?
At VIS, our professional inspection service is designed to ensure a smooth and thorough process. We follow several key steps to deliver a top-quality service that meets our client's needs. Here's how we conduct a professional inspection at VIS:
Pre-inspection
We start by engaging in open and detailed discussions with our clients. Our goal is to understand their requirements, specifications, and expectations fully. We also review all relevant documents, such as purchase orders, contracts, invoices, and packing lists. This meticulous preparation allows us to tailor the inspection to each client's unique needs and select a qualified inspector who best fits the job, considering expertise and location.
Inspection
Our dedicated inspector visits the factory or warehouse where the products are located. They conduct a comprehensive inspection based on the agreed criteria and checklist. The inspector leaves no stone unturned, meticulously examining every important aspect of the client. This includes checking the quantity, quality, appearance, functionality, safety, packaging, labeling, and any other specific requirements the client outlines. Our inspector also takes detailed photos and videos during the inspection, providing tangible evidence of their findings.
Post-inspection
Our diligent inspector prepares a detailed inspection report following the inspection. This comprehensive report encapsulates all the crucial information gathered during the inspection. It highlights the findings, observations, and recommendations based on the assessment. The report includes the photos and videos captured during the inspection process to enhance clarity. Within 24 hours of completing the inspection, we promptly deliver the report to the client for their review and approval.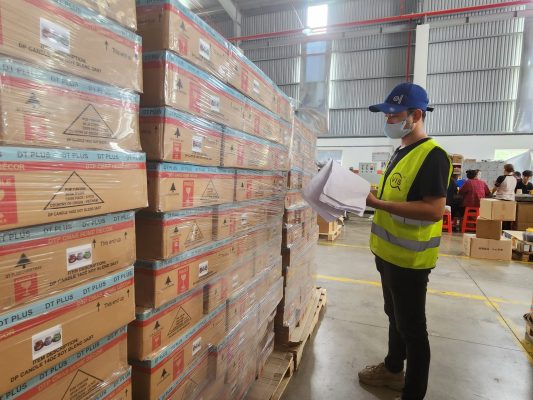 Mr Chien was inspecting a factory.
What are some common problems you face during inspections in Vietnam, and how do you solve them?
Some of the challenges that we face during inspections in Vietnam are:
Cultural differences
Some factories or suppliers have different ways of working or behaving than we are accustomed to. We respect their culture and act courteously to achieve the best outcomes. For example, some factories may not understand why they need a third-party inspection, why their products must be 100% finished and packed, and how these requirements affect their costs.
Logistics challenges
Some locations are difficult or distant to access, so reaching them requires time and money. We have inspectors all over Vietnam who can travel anywhere you need. Sometimes, we must send our inspectors a day before booking a hotel. We bear all these costs by ourselves without compromising on our service quality.
Quality defects
These include substandard materials, production process deviations, poor workmanship, and packaging errors. We solve these problems by communicating effectively with the factory and the client. We rectify the issues promptly, give clear instructions, and verify them later. We ensure that the quality is high and fast.
Often, factories may need help understanding the defect standards that we apply. Some defects may seem ordinary or unavoidable to them, but we know they can cause complaints from our clients. Also, most factories may only accept a successful result from our inspection.
How do you maintain high-quality standards throughout the inspection process?
We maintain high-quality standards throughout the inspection process by following these guidelines and procedures:
• We only hire qualified and experienced inspectors who have relevant industry knowledge and skills. Also, we provide regular training for our inspectors to ensure they are updated with the latest industry standards and best practices.
• We use standard and custom checklists and criteria for each inspection to ensure consistency and accuracy. We also use technology and equipment to improve the inspection process; some tools like cameras, scanners, measuring devices…
• We review our inspection reports and processes internally to ensure quality and compliance.
What training and qualifications do you have to do your job well?
I have different kinds of training and qualifications, such as:
• Academic degrees or certificates in relevant fields, such as engineering, textiles, electronics, etc.
• Professional certifications or memberships in recognized industry associations or organizations.
• Practical experience or internships in related industries or sectors, such as manufacturing, trading, exporting, etc.
• Language skills or courses in English or other languages required for communication during the inspection process.
• Soft skills or workshops in communication, negotiation, problem-solving, teamwork, etc., are important for dealing with different cultures and situations during the inspection.
Here is one of my team's professional certificates: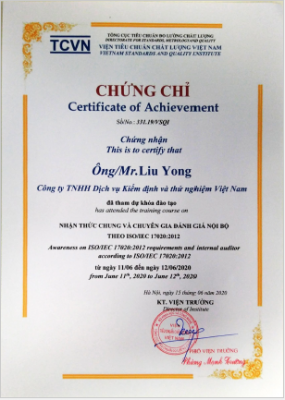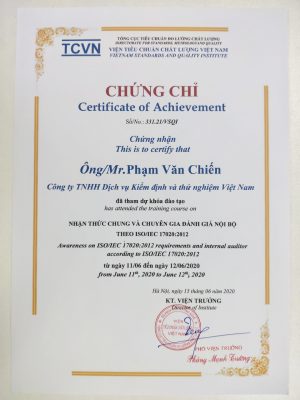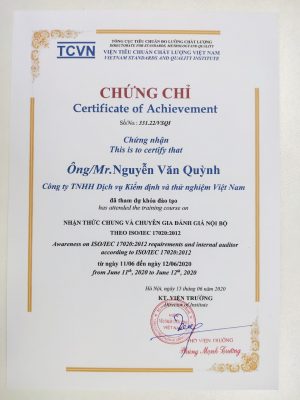 How do you use client feedback and suggestions to improve the inspection services?
We value feedback and suggestions from clients as they help us improve our inspection services. We have a system where clients can share their experiences, provide suggestions, or raise concerns. Our team reviews all feedback carefully and takes action to improve any areas that need improvement. We see feedback as a chance to improve our processes, refine our methods, and better meet the needs of our clients.
Can you tell us a success story where VIS helped prevent quality issues and protect a client's reputation?
Sure, here is an interesting story.
VIS was hired by a Malaysian fabric seller who had a dispute with a Vietnamese factory. The seller had supplied fabric to the factory in northern Vietnam, but the factory claimed that the fabric weight (GSM) was lower than the seller promised. The seller asked VIS to conduct a fabric inspection at the factory to verify the quality of the product.
When I arrived at the factory and performed the inspection, I got the same result as the factory. It seemed that the seller had delivered poor-quality fabric to the factory. However, as an experienced inspector, I knew there was more to the story. The factory did not understand the concept of "Fabric Elasticity". This means that when the fabric is rolled and packed, it needs to rest for at least a day after being unpacked to stretch back to its original shape. Only then can the inspection be done accurately. Therefore, I decided to stay at the factory another day, even though the client had only booked one man-day. I wanted to ensure that I inspected the fabric in its original state and gave a fair report to both parties.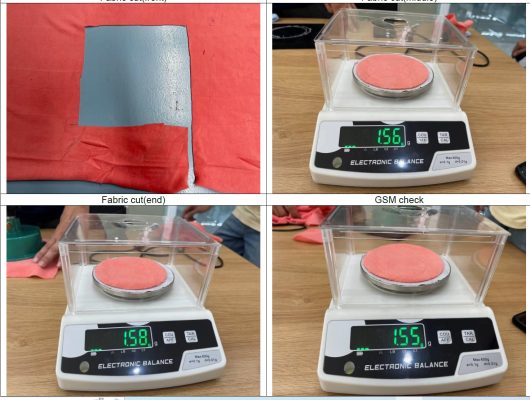 After waiting for the fabric to relax, I conducted the inspection again and found that it had the correct GSM as claimed by the seller, after that i sealed all evidences and sent back to our Hanoi office. The result resolved the misunderstanding between the seller and the factory and cleared the seller's reputation. The Malaysian client was pleased and satisfied with our service and has become our loyal customer.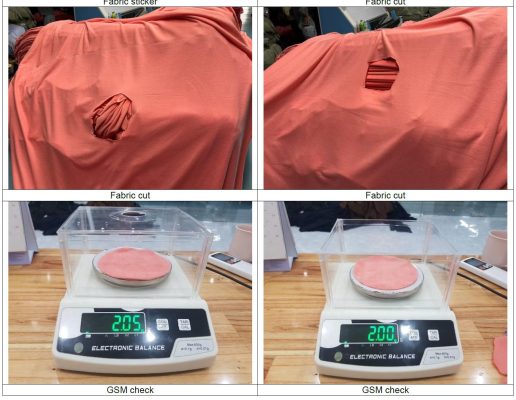 Thank you for your time!
At VIS, we have more professionals like Mr.Chien Pham. If you need quality control in Vietnam, let our professional team help you. Contact us for a free consultation today!